From the experts at Tulsa Concrete Contractor, learn more about stamped concrete and the virtually limitless design options available to you.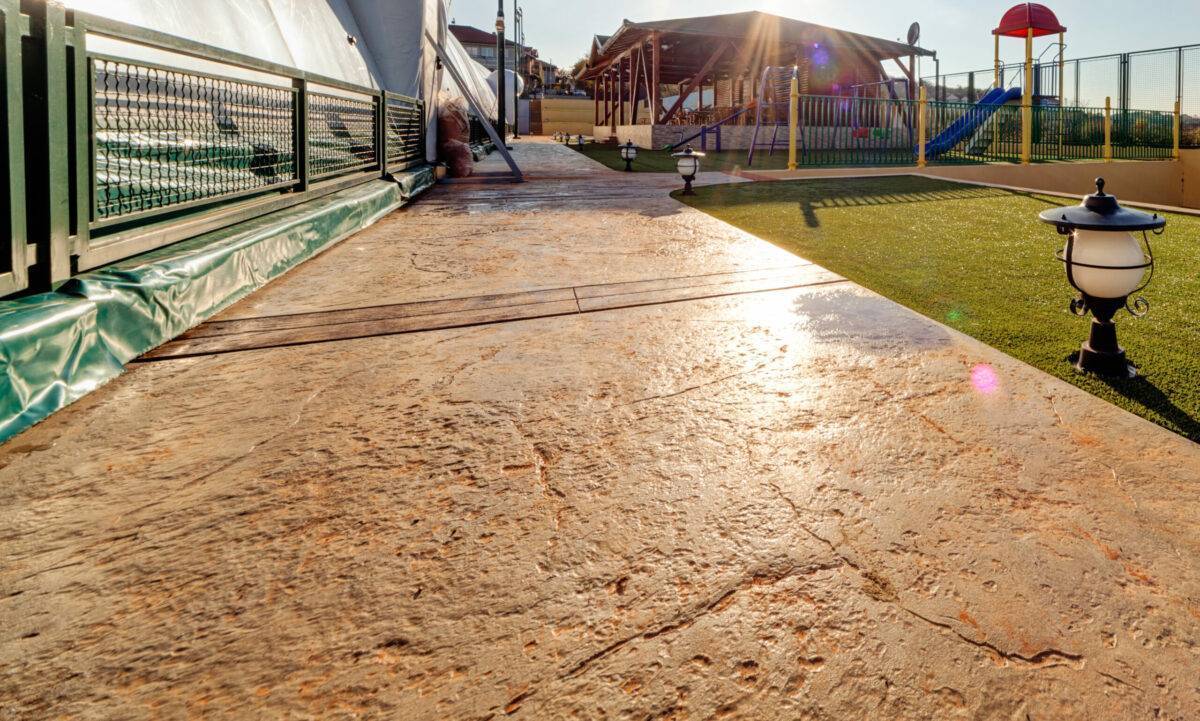 Are you a homeowner seeking a unique and affordable way to upgrade your outdoor spaces? Look no further than stamped concrete. With virtually limitless design possibilities, homeowners can use it as an attractive enhancement for driveways, patios, walkways, or even pool decks.
This article will provide useful information about the advantages of choosing stamped concrete and offer helpful tips on how to keep this durable material looking its best.
What Exactly Is Stamped Concrete?
Stamped concrete is the perfect union of affordability and aesthetically pleasing design.
From driveways to poolsides, this textured surface allows you to customize your outdoor living space with a cost-effective solution that still retains the look and feel of more expensive materials like stone, brick, or wood.
Whether for renovation purposes or creating something entirely new, stamped concrete can be used in numerous ways around any home without breaking budgets.
Your Vision Set in Stone: Stamped Concrete Project Ideas
Stamped concrete offers virtually endless design options, allowing you to create a unique outdoor space that reflects your personal style and preferences.
Here are some of the most popular stamped concrete project ideas:
Custom Designs or Stencils
Custom designs or stencils allow you to create a unique pattern that reflects your personal style or preferences. You can work with a contractor to design a custom pattern or use a pre-made stencil to achieve a specific look.
Stone Designs
Stamped concrete can be used to mimic the appearance of natural stone, including slate, cobblestone, or brick. This can give your outdoor space a classic and natural look without the expense and maintenance required of real stone.
Faux Wood Designs
Faux wood stamped concrete can create a natural, rustic look for your outdoor space. Faux wood designs can be created in a variety of colors and patterns to mimic the look of real wood.
Decorative Stamped Concrete Borders
Stamped concrete can also be used to create decorative borders or accents for your outdoor space. This can include unique patterns or designs that add a touch of elegance or sophistication to your home's exterior.
Why Stamped Concrete Is Perfect for Your Home
There are several reasons why stamped concrete is an excellent choice for your outdoor projects at home. Here are some of the most compelling benefits:
Durability
Stamped concrete has the same durability as regular concrete. It can withstand heavy traffic and extreme temperatures. Unlike traditional building materials, stamped concrete does not require frequent maintenance, such as excessive sealing or repainting, which saves you time and money in the long run.
Customizability
Stamped concrete can be customized to match almost any design aesthetic or color scheme. This makes it easy to match your outdoor space to your home's architecture and personal preferences. You can choose from a wide range of colors, patterns, and designs to create a unique and personalized outdoor space.
Affordability
Stamped concrete is often much less expensive than other building materials like natural stone or pavers. This can save you a significant amount of money while providing a beautiful exterior.
Low Maintenance
Stamped concrete requires minimal maintenance compared to other outdoor surfaces like wood or pavers. Cleaning and sealing every so often can help keep the surface looking great for years to come.
Installation
Stamped concrete installation is a relatively straightforward process. However, it's essential to work with an experienced and skilled contractor who can ensure that the installation is done correctly.
The installation process typically involves the following steps:
Preparation of the surface
Mixing the concrete, including integral color
Pouring the concrete
Applying the stamp pattern(s)
Optionally, sealing the surface
Tips for Maintaining Stamped Concrete
While stamped concrete is a low-maintenance material, it's best to keep it clean and well-maintained to ensure its longevity. Here are some tips for maintaining your stamped concrete:
If it appears visibly soiled, clean the surface using a broom, pressure washer, or hose to remove debris, dirt, or stains.
Use a mild detergent and water solution to clean the surface. Avoid using harsh chemicals, which can damage the surface.
Apply a sealant every few years to protect the surface from moisture, stains, and UV rays. This can also help to enhance the color and appearance of the stamped concrete.
Avoid using de-icing salts on stamped concrete surfaces, as they can cause damage and discoloration.
Fix any cracks or chips in the surface promptly to prevent further damage.

Can Stamped Concrete Solutions Be Applied to Enhance any Outdoor Living Space?
Stamped concrete solutions can indeed be applied to enhance any outdoor living space, transforming it into a stunning and inviting area. Whether it's a patio, driveway, or pool deck, the versatility of stamped concrete allows for endless design possibilities. With an array of patterns and colors available, these solutions can replicate the look of natural stone or brick, creating unique and visually appealing surfaces. Upgrade your outdoor space with stunning stamped concrete solutions today.
Tulsa Concrete Contractor Is Here To Help
Ready to start your stamped concrete project and make a statement with your outdoor space?
With stamped concrete from Tulsa Concrete Contractor in Tulsa, Oklahoma, you can customize the look and feel of your driveway, patio, walkway, and more for maximum durability at an affordable price.
Our professionals will work to bring your vision to life by crafting creative designs just for you, while ensuring proper installation from our experienced team.
Get started on creating your ideal oasis today; simply click the link below for a free quote.