Read the Ultimate Guide to Affordable Concrete Patio Installation in Tulsa by Tulsa Concrete Contractor
The outdoor area of your home isn't just an empty space; it's an extension of your living environment. It's a place where you can relax, entertain, and enjoy the seasons. And there's no better way to enhance this space than through concrete patio installers in Tulsa. At Tulsa Concrete Contractor, we're more than just concrete specialists; we're architects of outdoor living spaces. We offer a range of services, from planning to execution, all aimed at turning your dream patio into a reality.
Key Takeaways
The article introduces Tulsa Concrete Contractor as a leading expert in concrete patio installation in Tulsa, emphasizing their role as architects of outdoor living spaces.
discusses why concrete is a durable and versatile material, ideal for various aesthetic and budgetary needs, making it an excellent choice for affordable and quality patio installations.
highlights the importance of initial planning and design, covering factors like location, size, and desired features of the patio, and mentions how the company offers comprehensive design services.
explains the variety of concrete patio styles available, from stamped to acid-stained concrete, showcasing the customizability of concrete patios.
talks about cost considerations, advising homeowners to invest in quality installation for long-term benefits.
emphasizes the need for choosing a reliable and licensed patio installation company, detailing how Tulsa Concrete Contractor stands out as a trusted patio builder with a commitment to excellence.
Outline the steps involved in the installation process, from consultation to concrete pouring and setting.
concludes by stating that Tulsa Concrete Contractor provides custom, residential patio installation solutions designed to exceed customer expectations, offering a quick turnaround time and exceptional customer service.
ends with a call to action, inviting readers to contact Tulsa Concrete Contractor for their patio needs.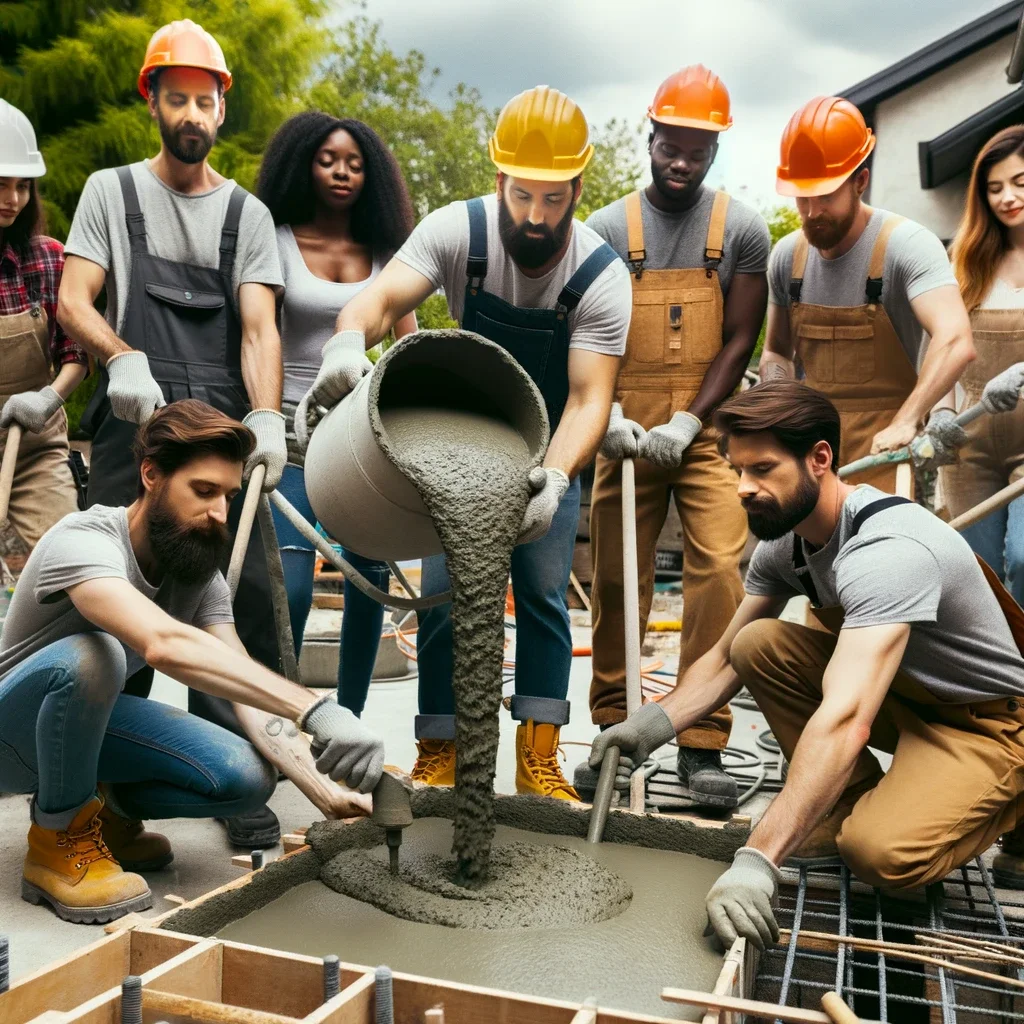 Why Choose a Concrete Patio
When contemplating the addition of a patio, the material you choose will have lasting implications for maintenance, aesthetics, and, of course, cost. Concrete stands out as a remarkably durable and versatile option. Whether you're eyeing a simple, budget-friendly slab or an elaborate, artistic installation, concrete offers something for every aesthetic preference and budget. It's the go-to material for those looking for affordable patio installation in Tulsa.
"Quality patio installation in Tulsa isn't just about laying down concrete; it's about creating a long-lasting outdoor space that fits your lifestyle."
Experience Makes Perfect: Choose Experienced Patio Builders in Tulsa
When it comes to concrete patio installation in Tulsa, experience matters. Our team of experienced concrete contractors brings to you the expertise gathered over years of quality patio installation in Tulsa. We are not just patio builders; we are your patio construction specialists. Trust us, we know how to transform your outdoor spaces.
"Good work isn't cheap, and cheap work isn't good." But at Tulsa Concrete Contractor, we offer affordable patio installation in Tulsa without compromising on quality.
Bringing Your Vision to Life: Patio Design and Installation
In addition to building, our expert patio installation team takes pride in our approach to patio design and installation. Whether you're looking for a rustic aesthetic or a modern design, our team of professional patio builders in Tulsa has you covered. Don't miss our insightful cement driveway blog for more information on what makes a great outdoor space.
Why Choose Tulsa Concrete Contractor?
We believe that each project is unique and requires personalized attention. This is where Tulsa Concrete Contractor excels as your reliable patio installation company. From residential patio installation in Tulsa to commercial projects, we guarantee:
High-quality Materials
Timely Completion
Transparent Pricing
Skilled Craftsmanship
If you're concerned about patio installation cost in Tulsa, we provide a detailed estimate that leaves no room for unexpected surprises.
Think Local: Your Local Patio Contractors in Tulsa
For your peace of mind, we are not just experienced patio builders in Tulsa but also licensed patio builders. As your local patio contractors in Tulsa, we understand the local conditions, regulations, and, more importantly, the local aesthetic desires.
Revamp and Renew: Patio Renovation Experts
If you're looking to update an existing outdoor space, we are your patio renovation experts. We turn outdated patios into luxurious spaces you'll love. Learn more about us and our commitment to quality.
"The best time to install a patio was 20 years ago. The second-best time is now." Ancient Patio Proverb
A Premier Experience: Why We Are The Premier Patio Contractors in Tulsa
We aim to be your premier patio contractor in Tulsa, offering the best patio installation services in Tulsa. Visit our homepage to get a sense of who we are and what we do.
Initial Planning and Design
The first step towards a successful concrete patio installation in Tulsa is comprehensive planning. You'll want to consider various factors, including the patio's location, size, and desired features. Is it a quiet reading nook you're after, or perhaps an expansive space for backyard barbecues? Your decisions during this phase will determine the project's scope and influence the overall cost.
For homeowners seeking inspiration, our cement driveway blog offers valuable design ideas applicable to patios. As experienced patio builders in Tulsa, we offer comprehensive patio design and installation to meet your specific needs and aspirations.
When it comes to adhering to industry standards, we follow the guidelines set forth by the American Concrete Institute.
Types of Concrete Patios
Concrete is a versatile material, which means you have several options when it comes to the type of concrete patio you want to install. These include stamped concrete, acid-stained concrete, and exposed aggregate, among others. These various styles and finishes make concrete an excellent choice for custom patio installation in Tulsa. Whether you're looking for something simple or a more artistic and complex design, our expert patio installation team can guide you in selecting the option that best matches your needs, style, and budget.
Cost Considerations
Concrete patio installation in Tulsa can be as cost-effective or as lavish as you make it. Several factors, including the patio's size, design complexity, and additional features like built-in fire pits or kitchens, can influence the total installation cost. While you may be tempted to go for the cheapest option, remember that quality patio installation in Tulsa offers long-term value, durability, and a less frequent need for repairs.
"Investing in quality is investing in the longevity and future enjoyment of your outdoor space."
To get a general idea of what your project might cost, you can refer to HomeAdvisor's Patio Cost Guide.
Choosing a Reliable Patio Installation Company
When it comes to entrusting someone with the task of installing your patio, you want to choose trusted patio builders. You're not merely looking for a crew that can pour concrete; you're looking for patio construction specialists. This is where our team at Tulsa Concrete Contractor sets itself apart.
As licensed patio builders with extensive experience, our About Us page lays out our commitment to excellence, quality, and customer satisfaction. We understand the unique demands and regulations of working as local patio contractors in Tulsa, giving us a distinct advantage in delivering a successful project.
The Installation Process
The process of concrete patio installation in Tulsa involves several key steps, each critical to the project's overall success. These range from initial consultation and design to site preparation, concrete pouring and setting, and the application of finishing touches. As Tulsa's premier patio contractors, we ensure each step is executed to the highest standard, resulting in a finished product that stands the test of time.
Why Tulsa Concrete Contractor
Concrete patio installation in Tulsa is not a one-size-fits-all project. Each home is unique, and each homeowner's needs and preferences vary. This is why we offer custom solutions tailored to meet your specific requirements. As residential patio installation experts in Tulsa, we focus on creating a space that not only meets but exceeds your expectations. With us, you can expect a quick turnaround time, exceptional customer service, and, above all, a beautiful and durable patio that enhances the value and enjoyment of your home.
Conclusion
When you're looking to transform your outdoor space into something spectacular, concrete patio installation in Tulsa should be at the top of your list. With our professional patio builders in Tulsa, your project is in safe and capable hands. Whether it's a new installation or a renovation project, we are the patio renovation experts you can trust. So why settle for ordinary when you can have extraordinary?
"With Tulsa Concrete Contractor, you're not just getting a patio; you're getting an outdoor sanctuary."
Ready to transform your outdoor space with the ultimate concrete patio installation in Tulsa? Don't settle for less; go for the best with Tulsa Concrete Contractor. Call us today at 918-995-4478 and let's make your dream patio a reality. Our experienced patio builders in Tulsa are eager to bring your vision to life with unparalleled quality and affordable options. Act now and elevate your home's value and aesthetic with our expert patio installation team!