Unlocking the Potential of Your Outdoor Space: A Comprehensive Guide to Professional Patio Installers in Tulsa by Tulsa Concrete Contractor
A well-designed and expertly installed patio is much more than just an extension of your home's living space; it's a haven for relaxation, a space for family to gather, and often the cornerstone of a stunning outdoor landscape. If you're in the Tulsa area, you'll naturally want affordable patio installers in Tulsa who can turn your dream into a reality. Tulsa Concrete Contractor is the name that stands out in this arena.
Key Takeaways
Introduction: The importance of choosing the right team for patio installations in Tulsa
Why Choose Professional Installers: Benefits of Hiring Highly Recommended Patio Installers in Tulsa for Quality and Reliability
Key Considerations: Factors to think about before installing your patio, from material choices to design elements
FAQs: Answers to commonly asked questions about patio installation, including costs and timeframes.
Customization: Discusses the unique options available for making your patio stand out, from stamped concrete to specific finishes.
Installation Process: A step-by-step overview of what you can expect when you choose professional patio installers in Tulsa
Quality Control: How we ensure every patio project meets high-quality standards
Extra Tips for Maintenance: Cleaning, sealing, and regular check-ups to keep your patio in top shape
How to Reach Us: Contact details and social media links for further inquiries
The Future of Patio Installation: Trends and Innovations that keep your patio space relevant for years to come.
Conclusion: Final thoughts on why Tulsa Concrete Contractor is the go-to choice for professional patio installers in Tulsa.
Why Go for Professional Patio Installation?
"You think you are saving money by going DIY, but the cost of a mistake is often higher than hiring a professional from the get-go."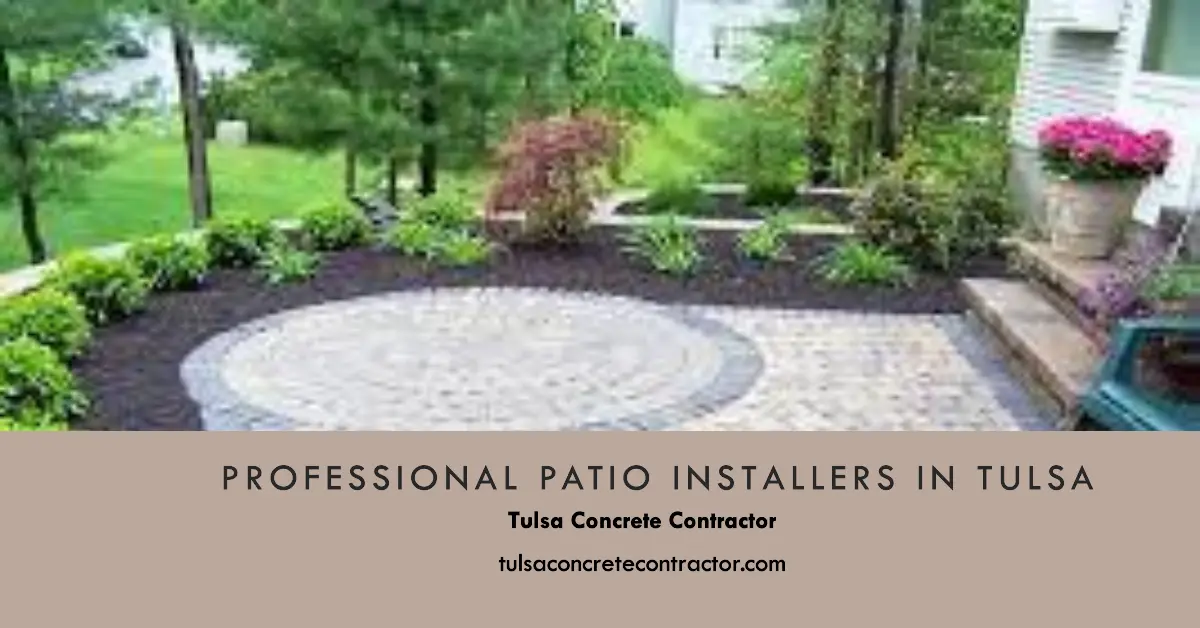 The Risk and Cost of DIY
The temptation to go DIY for your patio installation could be high. After all, the idea of adding a personal touch to your outdoor space is appealing. However, professional patio installers in Tulsa bring a level of expertise that ensures your patio is not only beautiful but also functional and safe. Our post about the role of a top concrete contractor in Tulsa will give you a closer look at why experts should handle your project.
When Expertise Matters
Quality of Work: Professionals have the skill set to deal with all kinds of issues that may arise during the installation.
Safety Protocols: Safety is another concern, and professional patio installers in Tulsa will stick to the highest safety standards to avoid any risks or complications during the process.
Timeliness: A reliable patio installer will always stick to the promised timeline, ensuring that your project doesn't drag on unnecessarily.
How to Choose a Patio Installer
When you're searching for trusted patio installation companies in Tulsa, you should consider their portfolio, their reputation in the community, and their capacity to meet your specific requirements. Always opt for experienced patio installation contractors in Tulsa who can offer a full range of services, from installation to maintenance and repair.
According to the National Association of Home Builders, outdoor living spaces have been gaining in popularity among homeowners, and a well-designed patio can significantly increase your property value.
Types of Patios to Consider
Having a patio is about designing an outdoor space tailored to your lifestyle. So, you want to be aware of the types of patios that suit your preferences and daily life. Whether you want an upscale design for entertaining guests or a cozy place for family gatherings, there's a type of patio for you.
Stamped Concrete Patio
A stamped concrete patio can mimic the appearance of brick, stone, or other textures. This adds an artistic touch to your outdoor space. You can learn more in our specialized stamped concrete patio blog post.
The Extended Outdoor Space: Cement Driveway
Believe it or not, your cement driveway can serve as a secondary outdoor space for various activities. When expertly installed by professional patio installers in Tulsa, a cement driveway can blend seamlessly with your home's exterior and even serve as a makeshift patio for certain kinds of gatherings. Our blog post about cement driveways provides an in-depth look at this.
Differentiating with Decor and Features
Remember, the choice of decorative elements, furniture, and even plants can turn an ordinary patio into an extraordinary one. This is where local professional patio installers in Tulsa can offer their specialized insight to transform your outdoor space.
Why Choose Tulsa Concrete Contractor?
We're not just any service provider; we're the best concrete contractor in Tulsa. Our team of skilled patio installation experts in Tulsa offers an array of services, from basic installations to more complex patio remodeling services in Tulsa.
What Sets Us Apart
Years of Expertise: Our team comprises highly recommended patio installers in Tulsa, known for top-rated service and customer satisfaction.
Transparent Pricing: We offer affordable patio installation services in Tulsa without compromising on quality.
Customer Reviews: Don't just take our word for it. You can read testimonials from satisfied customers on our About Us page.
Let's Talk Cost
Cost is a significant factor for most people when it comes to patio installations. Contrary to popular belief, opting for the cheapest installation may result in shoddy work that will cost you more in the long run. Always go for certified patio installers in Tulsa who can assure both quality and affordability.
Extra Tips for Maintaining Your Dream Patio
A patio isn't just a one-time investment; it requires regular maintenance to keep it in top shape. This is where our concrete patio installation blog comes in handy, offering useful advice on how to maintain your concrete patio. Here are some additional tips:
Cleaning and Sealing
Regular Cleaning: Debris and dirt can take away the beauty of your patio. Regular cleaning is essential.
Sealing: Consult your professional patio installers in Tulsa about the best type of sealant for your patio material.
Quick Repairs
Minor cracks and chips can quickly escalate into significant issues. Consult trusted patio installation companies in Tulsa like us for timely repair services. Our concrete contractor near me in Tulsa blog will give you more information about how proximity can be beneficial in emergency situations.
Yearly Inspections
A yearly check-up by expert patio renovation services in Tulsa can help you identify any lurking issues and nip them in the bud, saving you money in the long term.
Affordable Options
For those on a budget, our cheap concrete patio installation blog provides insightful tips on how you can have a beautiful patio without breaking the bank.
How to Reach Us for Your Next Project
Feel free to reach out to us for your next patio project. Our team of professional patio installers in Tulsa is always ready to assist you.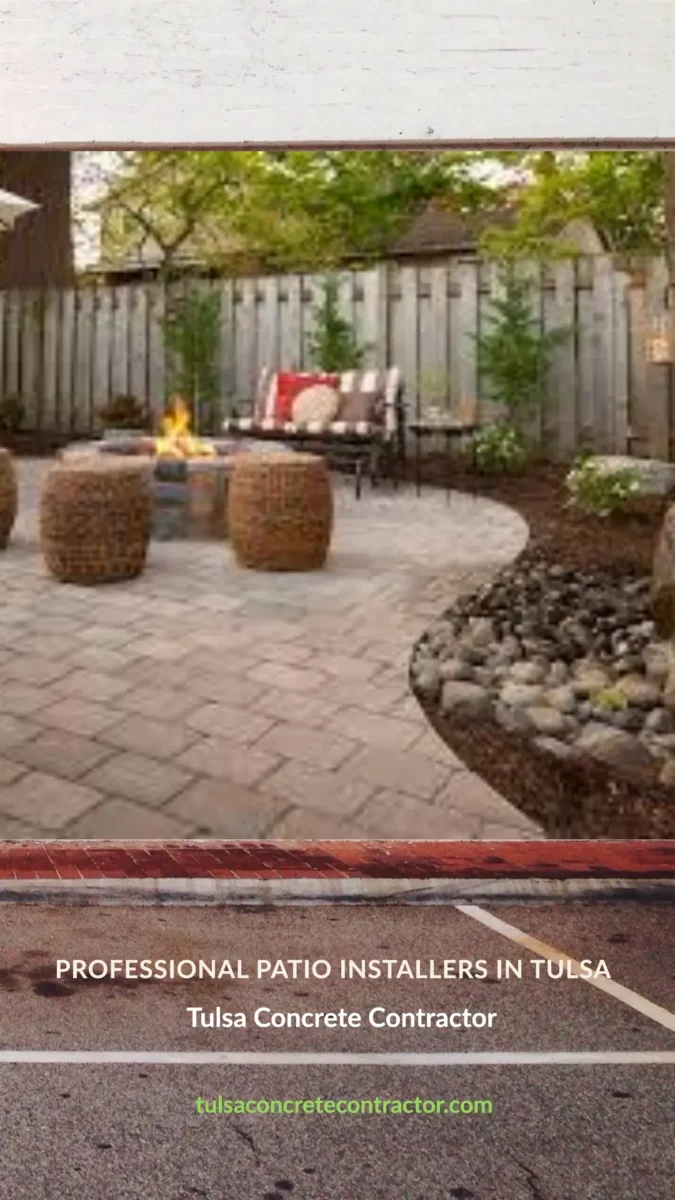 The Future of Patio Installation
While the basic essence of a patio remains the same, innovations in design, material, and installation techniques make it a continually evolving field. With a team of top-rated patio installers in Tulsa, we're committed to staying ahead of the curve. We're consistently updating our methods and exploring new avenues to give you a product that is both timeless and contemporary.
By opting for reliable patio remodelers near Tulsa who are in tune with the latest industry trends, you're not only investing in a patio but also in a space that will stay relevant for years to come.
For design inspiration, Architectural Digest has a range of articles showcasing various patio designs, from modern minimalist to more traditional styles.
Conclusion
We hope this comprehensive guide has been beneficial in helping you make an informed choice about your patio installation project in Tulsa. When you work with Tulsa Concrete Contractor, you're guaranteed a high-quality service delivered by professional patio installers in Tulsa, making your dream patio come to life.
The right patio can significantly enhance your home, adding both functional and aesthetic value to your property. And in Tulsa, when it comes to creating that perfect patio, it doesn't get better than Tulsa Concrete Contractor. You'll get affordable patio installers in Tulsa who are reliable, certified, and committed to transforming your dream into a reality.
For more questions or to get started on your project, don't hesitate to contact us.
FAQs
Q: How long will the patio installation take?
A: Time can vary based on the project's complexity and other external factors like weather conditions.
Q: Where can I find trusted patio installers near Tulsa?
A: You're already at the right place! Our expertise and reliability make us one of the top-rated patio installation companies in Tulsa.
Disclaimer: This article was written considering various skills, knowledge domains, decision-making paradigms, and potential cognitive biases. It aims to provide a nuanced and well-balanced perspective on patio installation services, thereby offering you the most optimal solutions.
Feel free to share this guide on social media and with friends and family who might be looking into installing a new patio. After all, a well-made patio is a joy forever, and we're here to make that joy a reality for you.