Revamping Your Outdoor Oasis with Expert Patio Remodeling Services in Tulsa by Tulsa Concrete Contractor
When envisioning the ideal home, one cannot overlook the importance of a well-designed patio. It's more than just an extension of your living space; it's a reflection of your aesthetic sense and a testament to your taste. At Tulsa Concrete Contractor, we understand the significance of crafting perfect patios. In this article, we will delve deep into the world of patio remodeling services in Tulsa, shedding light on our top-notch offerings and why we stand out in the crowded marketplace.
Key Takeaways
The Significance of Patios: More than just an extension, patios are spaces for bonding, relaxation, and memories.
Benefits of Concrete Patios: Highlighting the versatility, durability, and cost-effectiveness of concrete as the go-to material
Tulsa Concrete Contractor's Approach: Emphasis on thoughtful design, quality materials, and skilled execution for every patio remodeling service in Tulsa.
Addressing Challenges: Understanding and overcoming common issues during the remodeling process
Transformations and Possibilities: Converting overlooked patios into stunning outdoor areas tailored to homeowners' unique tastes and preferences
Customization and Lifestyle Integration: ensuring patios reflect the homeowners' lifestyle, be it gardening, entertaining, or relaxation.
Future-Proof Designs: Ensuring patios are trendy yet timeless, with a focus on durability and functionality
Choosing the Right Contractor: The importance of selecting an experienced, reputed contractor for the best patio remodeling services in Tulsa
The Ever-Evolving Landscape of Patios in Tulsa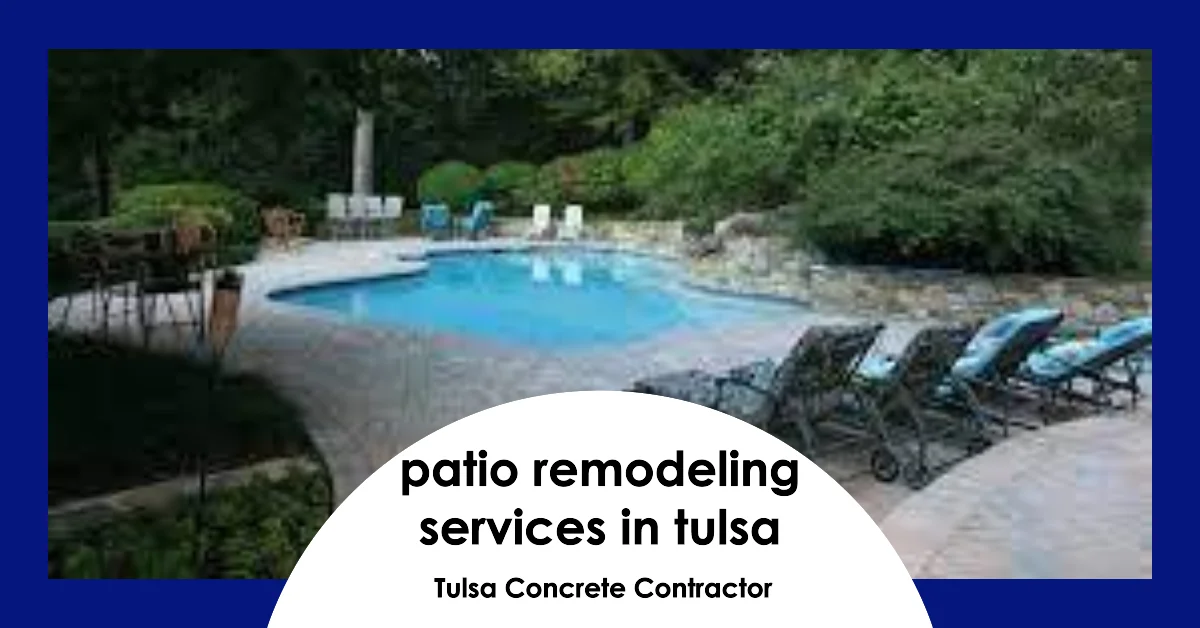 Tulsa, with its unique blend of urban aesthetics and natural beauty, offers the perfect canvas for creative patio designs. As the leading concrete contractor in Tulsa County, we have been at the forefront of this evolving landscape, bringing innovative designs and impeccable craftsmanship to homes across the city.
"A patio is more than just a space; it's an experience. It's where families bond, friends gather, and memories are forged." – Tulsa Concrete Contractor
Why opt for concrete patio installation?
When considering patio installation on a budget in Tulsa, concrete emerges as the material of choice. Not only is it cost-effective, but its durability and versatility also make it perfect for various design aspirations.
Stamped Concrete Magic: One of the latest trends in patio designs is Stamped Concrete Patio In Tulsa. It offers the elegance of intricate designs combined with the strength of concrete, ensuring your patio remains a conversation starter for years.
Color and Texture Galore: From a cheap concrete patio installation in Tulsa to more intricate designs, the flexibility of concrete allows homeowners to play with colors and textures, resulting in a personalized space that reflects individual style.
Our Signature Patio Remodeling Services
At Tulsa Concrete Contractor, our goal is to elevate every patio remodeling project to art. We pride ourselves on our professional patio remodeling services in Tulsa, ensuring that every project, big or small, gets the attention and expertise it deserves.
– Customized Solutions:
Every home is unique, and so are its patio needs. Our creative patio installation in Tulsa ensures that your patio stands out, resonating with the overall design language of your home.
– Experienced Craftsmanship:
With years of experience under our belt, we bring a blend of experienced patio installation in Tulsa combined with the latest trends.
– Budget-Friendly Options:
Quality doesn't always have to come with a hefty price tag. Our affordable patio installation services in Tulsa are designed to offer the best without burning a hole in your pocket.
More Than Just Patios
While we excel in patio installations, our services are all-encompassing. Whether you are searching for a "concrete driveway near me in Tulsa" or eyeing the best concrete contractor in Tulsa, we've got you covered. Our holistic approach ensures that every concrete-related requirement, from driveways to patios, is addressed with unparalleled professionalism.
Trusting Tulsa Concrete Contractor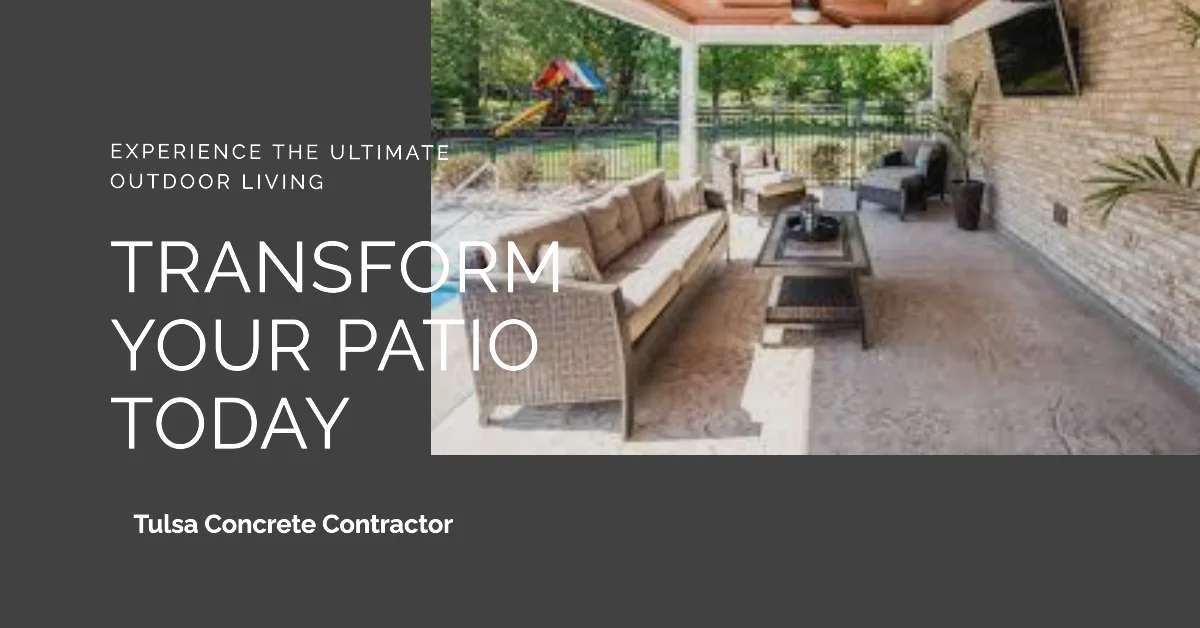 It's not just about providing services; it's about building trust. Our About page delves into our journey, our commitment to excellence, and our relentless pursuit of perfection. With numerous success stories and a portfolio boasting some of the top concrete contractor projects in Tulsa, we are the go-to destination for all things concrete.
For inspiration on modern patio designs, you can explore these dreamy patio designs featured on HGTV.
The Anatomy of a Perfect Patio
A patio is more than just a flat surface in your backyard. When you decide to avail yourself of patio remodeling services in Tulsa, you're essentially setting the stage for countless memories. Whether it's Sunday barbecues with family or late-night conversations under the stars, the patio is the silent witness to all these moments.
But what makes a patio truly special? Is it just about laying down concrete and adding some furniture? At Tulsa Concrete Contractor, we believe it's much more.
– Thoughtful Design:
Every patio remodeling service in Tulsa that we undertake begins with a comprehensive design phase. By understanding your requirements and vision, we ensure that the final result is not just satisfactory but exceeds expectations.
– Quality Materials:
For patio remodeling services in Tulsa, the choice of materials can make or break the final outcome. From the type of concrete to the finishes used, everything plays a crucial role.
– Skilled Execution:
Even the best materials can fall short if the execution isn't perfect. Our patio remodeling service in Tulsa is carried out by trained professionals who ensure every inch of your patio is perfect.
Challenges of Patio Remodeling
Undertaking patio remodeling services in Tulsa isn't without its challenges. From ensuring that the new design aligns with the overall aesthetics of the house to dealing with unexpected issues like weather or underground utilities, patio remodeling service in Tulsa requires expertise and experience.
It's here that our blog about concrete contractor near me in Tulsa offers valuable insights. We dive deep into common challenges and how our team overcomes them, ensuring that your patio remodeling service in Tulsa is smooth and hassle-free.
From Drab to Fab
Many homeowners often overlook the potential of their patios. What might currently be a drab and neglected space can be transformed into a stunning outdoor living area with the right patio remodeling services in Tulsa.
Remember the time you searched for cheap concrete patio installation in Tulsa? With our patio remodeling service in Tulsa, affordability meets quality. From introducing stamped concrete designs, as discussed in our stamped concrete patio in Tulsa blog, to integrating functional elements like outdoor kitchens or fire pits, the possibilities are endless.
Tailored to Your Lifestyle
Your patio should be an extension of your lifestyle. Whether you're an avid gardener looking to create a green oasis or a social butterfly who loves hosting parties, our patio remodeling services in Tulsa are tailored to suit your unique needs.
Bring life to your patio with these patio plant ideas from Gardening Know-How.
For those seeking a serene retreat, our blog on affordable patio installation services in Tulsa offers a plethora of ideas. And if you're someone who likes to keep things trendy, the professional patio installers in Tulsa post is a must-read.
Future-Proofing Your Patio
With patio remodeling services in Tulsa, it's essential to think long-term. Trends come and go, but the functionality and durability of your patio should stand the test of time. At Tulsa Concrete Contractor, we focus on providing porch remodeling services in Tulsa that are not just in line with the latest design trends but are also built to last.
Whether you're keen on understanding the benefits of different materials, as highlighted in our concrete patio installation in Tulsa blog, or want insights into maintenance best practices, our team is here to guide you at every step.
Making The Right Choice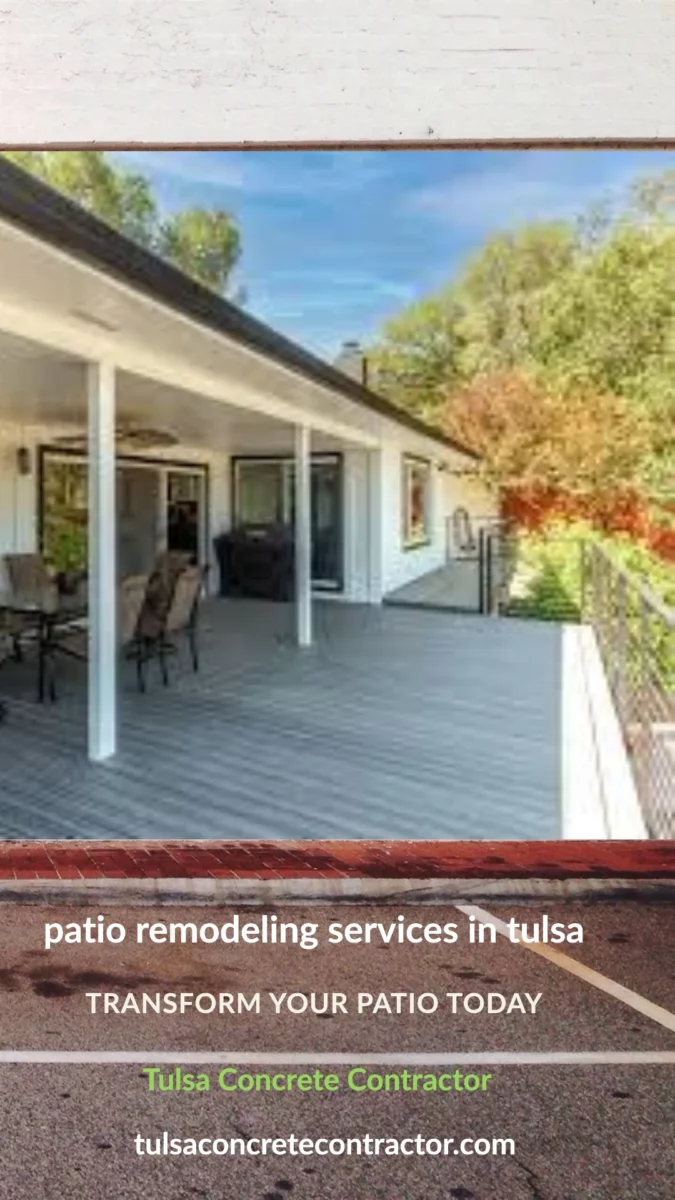 Choosing the right contractor for patio remodeling service in Tulsa can be overwhelming. With numerous options available, how do you ensure you're making the right choice? At Tulsa Concrete Contractor, our track record speaks for itself. Our top concrete contractor in Tulsa blog showcases some of our best works, reinforcing our commitment to quality and customer satisfaction.
From initial consultations to the final reveal, our patio remodeling services in Tulsa are designed to provide a seamless experience.
In Conclusion
Whether you dream of a simplistic patio or an elaborate outdoor
oasis, Tulsa Concrete Contractor is here to transform those dreams into reality. Our expertise, combined with our commitment to quality, ensures your patio not only looks great but also stands the test of time. Dive deeper into our offerings, explore our blogs, and let's embark on a journey to remodel your patio, one slab at a time.